Dental Cleanings
Dental cleaning is part of oral hygiene and involves the removal of dental plaque from teeth with the intention of preventing cavities (dental caries), gingivitis, and periodontal disease. Most dental cleanings take approximately 45 minutes. Cleanings should be performed every six months to prevent excessive plaque buildup. More frequent cleaning and examination may be necessary during treatment of dental and other oral disorders. Routine examination of the teeth is recommended at least every year.
In between regular visits to the dentist, there are simple steps that each of us can take to greatly decrease the risk of developing tooth decay, gum disease and other dental problems. These include: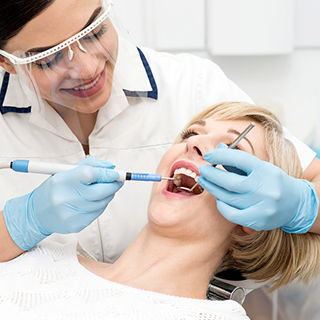 Brush thoroughly twice a day and floss daily
Eat a balanced diet and limit snacks between meals
Use dental products which contain fluoride, including toothpaste
Rinse with a fluoride mouth rinse if advised to do so
Make sure children under 12 drink fluoridated water or take a fluoride supplement if they live in a non-fluoridated area
Visit your dentist regularly for professional cleanings and oral exams
Replace your toothbrush every 3-4 month
Learn More about Dental Cleanings
For more information on dental cleanings, or to schedule a appointment with Dr. Kanthi, please contact us today.