Dental Exams
Regular dental exams are just like regular medical exams and physicals – both are preventive measures to help you stay healthy in the long run. The best way, if not the only way, to protect you against dental health disasters is to stay on top of your dental exams/dental checkups. The ADA recommends a checkup at least once every six months.
There's nothing better than proper dental hygiene to preserve your teeth for all the years to come. By keeping your mouth healthy, you thwart many potential dental problems, keep your smile bright, and ultimately avoid heavy financial investments.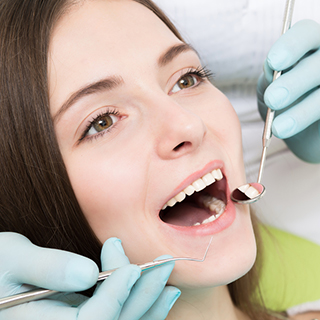 Dr. Kanthi and her staff provide complete evaluation for children, teens, adults and the elderly. This includes a dental exam, gum disease screening, cavity detection, diagnostic digital X-rays and imaging.
Learn More about Dental Exams
For more information on dental exams, or to schedule a appointment with Dr. Kanthi, please contact us today.