Root Canal Therapy
"Endo" is the Greek word for "inside" and "odont" is Greek for "tooth." Endodontic treatment treats the inside of the tooth. Root canal treatment is one type of endodontic treatment.
Endodontic therapy is a sequence of treatment for the pulp of a tooth which results in the elimination of infection and protection of the decontaminated tooth from future microbial invasion.
Endodontic treatment is necessary when the pulp, the soft tissue inside the root canal, becomes inflamed or infected. The goal of root canal treatment is to save the tooth by removing the infected or damaged pulp, treating any infection, and filling the empty root canals with a material called gutta percha. If pulp inflammation or infection is left untreated, it can cause pain or an infected tooth may have to be extracted.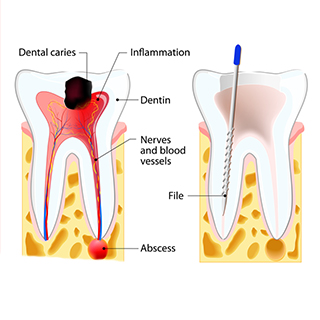 Having root canal treatment on a tooth does not mean that the tooth will need to be pulled out in a few years. Once a tooth is treated, it almost always will last the rest of your life.
Learn More about Dental Crowns
For more information on root canal therapy, or to schedule a appointment with Dr. Kanthi, please contact us today.