Dental Veneers
Dental veneers (sometimes called porcelain veneers or dental porcelain laminates) are a form of cosmetic dentistry in which a shell or layer of tooth-colored porcelain or composite is placed over the facial surfaces of your teeth to correct worn tooth enamel, uneven tooth alignment or spacing, discoloration and chips or cracks. The benefits of veneers include durability, an improved smile appearance, and the need for little-to-no removal of tooth structure compared to crowns.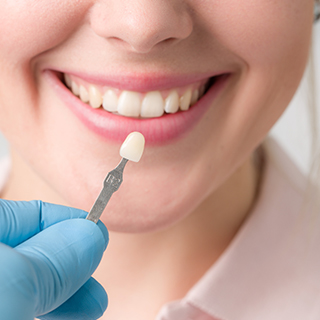 Dental veneers can be made from porcelain or from resin composite materials. Porcelain veneers resist stains better than resin veneers and better mimic the light reflecting properties of natural teeth. Resin veneers are thinner and require removal of less of the tooth surface before placement.
Learn More about Dental Crowns
For more information on dental veneers , or to schedule a appointment with Dr. Kanthi, please contact us today.