Invisalign
Everyone wants to have straighter teeth but once you're a teen or older, going for braces is both inconvenient and embarrassing. Invisalign is a better treatment option for aligning crooked teeth. It is invisible and easy to wear. With this procedure, you can get your smile fixed without having to sport metal or clear braces.
The Invisalign procedure has been around for more than two decades now and has helped millions of teens shape their smile. Their Invisalign before and after pictures will help you see what a confidence booster this method can be and how efficiently it works! At our clinic, you can get started with the procedure in no time.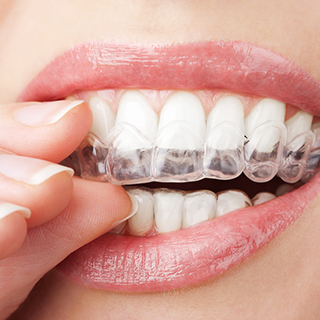 When you visit our clinic, we will assess your teeth and see if you are a suitable candidate for the Invisalign process. If you are, x-rays and impressions will be employed to chalk out a course of treatment for you.
You will be required to change your alignment trays and visit our dental clinic regularly until the procedure is completed. The time that the entire Invisalign process may take varies from one individual to another. With straighter teeth and an aligned, bright smile, you can take your confidence up another notch.
Learn More about Dental Crowns
For more information on Invisalign, or to schedule a appointment with Dr. Kanthi, please contact us today.